Welcome to the Custom Shop. Our product lines may change from time to time, but one thing constant with CertainBass is, number one, you get exactly the bass you dreamed up. From period-correct replicas to wild things, conventional to radical and all in between, the Custom Shop is where we get it done. You will see below choices for options explained in detail for each part of your bass. And if you feel like doing some math, you can calculate your own quote here as you decide what options are right for you. If you don't see what you want or have any questions, drop me an email at david@certainbass.com or give us a ring at 314 762 0902.
---
Body Style: dual pickup Jazz style, split pickup P style, single pickup early 50's P/Tele style, 5 string Jazz style, 5 string any style for that matter, left hand and short scale. Custom shapes, too.
---
Color: I try to keep stocked sunburst, black and natural ash as standard colors. Other colors are available from time to time. Upgrading to our custom finish gives you absolutely any color you want, beautiful bursts, any official Fender Custom Color, metal flakes even flames. We finish in both polyurethane or nitrocellulose lacquer.
---
Pickguards: pickguards can be vintage style faux tortoise shell, black or white. The tortoises are 4 ply (white/black/white/tort) and the black and whites are 3 ply. This is what I stock; please ask if you'd like something different.
---
Necks: My standard necks are 20 fret slab rosewood dot inlay fingerboard on hard rock maple or one piece maple with skunk stripe with headstock truss rod adjustment. A monetarily modest upgrade is to opt for the vintage Fender replica with phillips truss rod adjustment at the heel just like our vintage friends. Rosewood, one-piece maple and thick slab ebony is available, fretted or fretless, lined or not and many of these models are available in 21 fret versions as well. Our necks are better than vintage Fender because Fender went from slab fingerboards to veneer "fingerboards" in 1962 as a cost cutting move and a bad idea. Funny how all those sought after 60's basses have necks that really aren't that stable or strong preventing the long term use of heavier gauge strings!
Other neck options: Jazz bass style mother of pearl block inlay with white binding in either rosewood fingerboard or one-piece maple or black block with black binding maple neck. again, just like vintage Fender Jazz basses (with the exception of the rosewood fingerboard is a slab). Live in a place with climate problems like Alaska or Dubai? I build with Moses graphite necks for utmost stability even in environments of extreme temperature and humidity variations.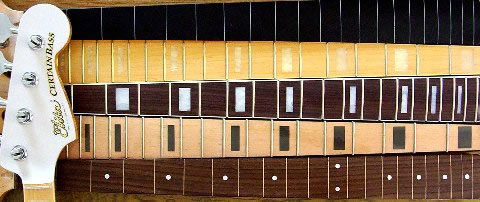 ---
Pickups: My standard pickups are what my customers call my "Asian secrets." I had vendors send me pickups to try out. I made a special bass just to quickly change things out and compare, and I found these great sounding import pickups I use as my standard pickups. They're deep with a hip brightness along with the presence we know and love of the Fender bass, and as you roll back the tone control, you travel back in time to some sweet vintage tones. I've had customers tell me they were going to change them out, but most don't The Precision style pickups are fully hum canceling and the Jazz style are hum canceling when both volumes are equal, just like vintage Fender Jazzes.
I will install anything you want (subject to additional cost of course). For Jazz style basses, I recommend hum canceling pickups. The neck pickup of a Jazz bass by itself is pretty much a dead ringer for a Precision sound. The drawback is the 60 cycle hum when you use either Jazz pickup by itself. For the Jaco sound, it's good to have a hum canceling bridge pickup as well. Until recently, I haven't found a hum-free Jazz pickup set that still sounds like Fender; Seymour Duncan Stacks were a huge disappointment lacking that presence we need. Older DiMarzios sound harsh. Bartolinis sound great but not like Fender. While Fender has a hard edge, Bartolinis have a softer edge. They're a very musical pickup and what I've been digging as of late. To function as real Fender (for studio work) I've recently installed the new Fender Noiseless pickups, and as their ad copy boasts, they sound just like vintage Jazz except no hum. They sound early 70's-ish, and they're great. DiMarzio came out with some new Jazz style hum canceling pickups that sound like Fender. Lindy Fralins are great, but they are expensive and not a great value unless you have a custom wind in mind, same with Nordstrands, Dark Star, Joe Barden. If you have a custom wind in mind, we'll make it happen
| | |
| --- | --- |
| | |
---
Other electronics: you can specify my stock pots or CTS pots or Bourne pots, my stock jack or a Switchcraft jack. I also do stereo basses.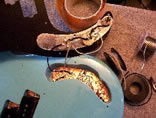 ...................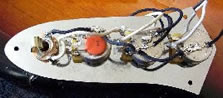 ---
Tone Control Option: I also have an optional Varitone which is a 6 position rotary switch with different values of capacitors offering different high end roll offs and mid range dips rather than just the one capacitor found on stock tone controls. Full explanation of my Varitone.
Pre-amps: I must be getting old, but I don't like on board pre-amps. I'll install anything you send me, but you are responsible for the preamp you choose. My personal opinions on pre amps: 1) the stock Fender bass electronics are some of the most dependable things I know in life in general; they never break!, 2) a preamp with the battery compromises the long and short term dependability of your bass, and 3) 9 volt powered preamps are by their very 9 volt nature not the best, cleanest or quitest preamps you can run a bass signal through. Out board, AC powered pre-amps are the best in general. The only 9 volt preamp you'll ever see me use is Alembic (and grab your wallet). All others I'm not going to mess with. I also see my bassist friends with preamps with another problem: because they are infinitely and wildly adjustable as to EQ, their sound changes from gig to gig, and is not consistent. Since my Varitone is switchable, it is easy to recreate any tone you've had.
---
Pickup Configuration: standard is Jazz, Precision, PJ (Precision bass with added Jazz pickup at bridge). We also do JP (Jazz bass with a P bass pickup at the neck and a Jazz at the bridge) or PP. PP is my own thing: two P bass pickups to function as a jazz bass set up except it's fully humbucking on any volume control settings and infinitely and exactly adjustable for string balance. Along with my Vartione, the PP set-up is another innovation brought back to life. As you can see in the photos, we do custom routings in order to install your dream pickup set and placement.
---
Bridge Choices: our standard bridge is stock Fender while offering as options Schaller, Leo Quan Badass bridges and Fender vintage style "threaded saddle" bridge. Others are available, just ask; we can mostly likely get your favorite bridge whatever it is.




---
Tuning Keys: our standard keys are open gear tuners with clover leafs for a classic look. Options include Schaller, Gotoh, Hipshot and others, just ask. D-Tuners are also available.
---
Hardware color: the stock color is silver/chrome color. Gold and black is available for additional charge as I don't buy those in bulk.
---
Strings: I buy very good economical strings in bulk - roundwounds, various metals, in 100 to 40 or 105 to 45. You'll eventually change them out anyway. I'm happy to install anything you send me or have sent to me. It's best to do a set-up with the actual strings you use.
---
Other options: straplocks maybe? Disc or T style string tree? Your signature on your bass? And we can discuss anything not covered here.
---
Boutique custom basses without the custom boutique price.
You're going to dig your new bass!
---